Store Hours:

Sunday - Closed
Monday - 8am - 5pm
Tuesday - 8am - 5pm
Wednesday - 8am - 5pm
Thursday - 8am - 6pm
Friday - 8am - 6pm
Saturday - 9am - 1pm
Set as My Store
Rockwall, TX
Your vehicle is more than a mode of transport. No matter what you use your truck, SUV or van for, you want it to be functional and look slick. At Truckfitters, we're passionate about equipping Rockwall, Texas, drivers with rugged accessories and parts to give you a vehicle that turns heads.
Truckfitters is your one-stop, local shop to kit your vehicle, truck and trailer. Our experts are on standby to support you with various upfitting services, using industry-leading brands and customizable solutions.
Custom Upfitting Services for the Look and Performance You Want
Our Rockwall team will help you customize your ride with a range of upfitting services. Some of our services include:
Suspension performance: Handle any terrain with our lift kits and suspension parts, boosting your vehicle's appearance and performance.
Truck components: Choose from functional and aesthetic equipment, grill guards, lighting, bed covers and other accessories to upfit your vehicle.
Vans and cargo trailers: Make your operations seamless by organizing your cargo hold with our expert solutions.
Custom paint jobs: Personalize your truck's body with branding or a new paint job to give it a spruced-up, good-as-new look.
Serving Various Fleets and Industries in Rockwall, TX
We offer comprehensive upfitting services for commercial and recreational truck and trailer needs. The industries and individuals we serve include:
Private and public fleets
Professional transporters
Commercial contractors
Auto dealers
Agriculture and livestock professionals
Outdoor recreation
Local governments and municipalities
Your Trusted Local Upfitting Experts
At Truckfitters, we get it — your truck, van or vehicle is more than wheels transporting you from one place to another. It is your livelihood, your delight, your brand or your business. We provide:
Innovative solutions: We work with you to solve problems and get solutions that master what you need in form, fit and function. Our team follows your preferences to meet your upfitting requirements.
Service expertise: Our skilled professionals have broad backgrounds, so they can install and upfit anything you need.
Reliable components and equipment: We offer the industry's largest selection of parts, trailers and truck beds, exclusively using materials from the most trusted manufacturers.
Contact Us to Enhance Your Truck or Fleet in Rockwall, TX
At Truckfitters, we have extensive experience developing top-notch solutions for our customers. Whether you want to enhance your vehicle's aesthetics or add functional accessories using leading brands, we've got you covered!
Contact us today for upfitting services or visit our Rockwall location.
Contact Us
What can we do for you?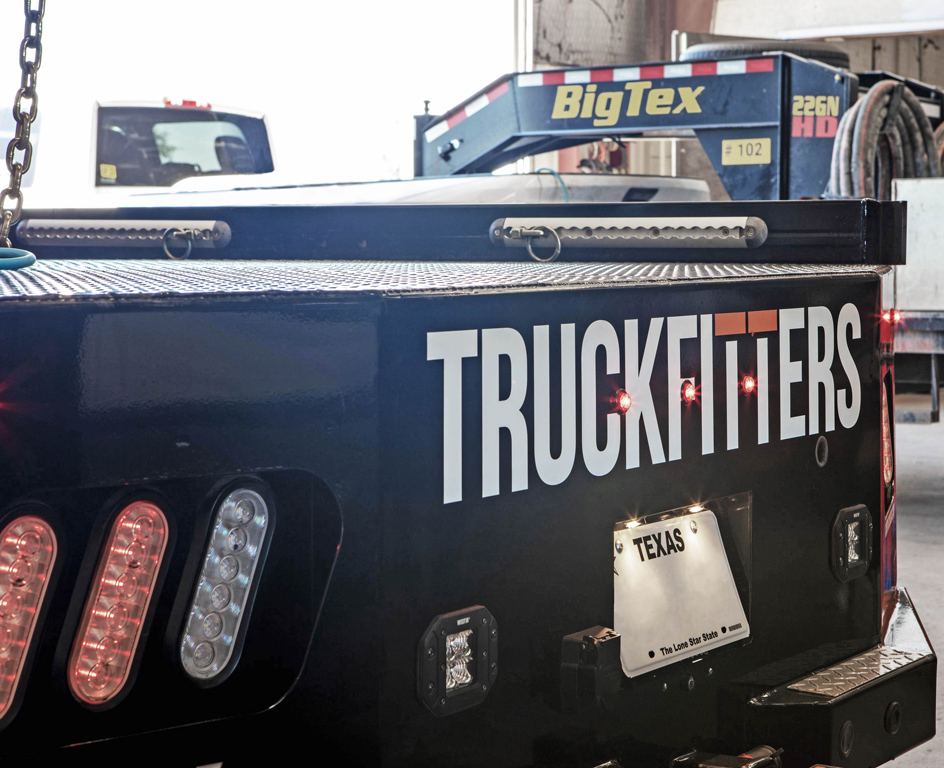 Brands You Trust
Whatever You Need, We Can Get It.
We get it! It's not just a truck. It's much more than that. It's your business, your brand, your livelihood. It's your office, your workshop, your playground. Which is why you demand nothing less than the best. Every product we sell needs to meet high performance standards. We only offer parts and equipment from the industry's top-tier automotive part manufacturers.
When you come to any Truckfitters retail location, you can find solutions from major brands like Bedrock Truck Beds, B&W Trailer Hitches, CURT Manufacturing, American Eagle and many more. If we don't have the parts you're looking for on hand, we'll order them for you so that when you take the wheel, you can realize your full potential.