Store Hours:

Sunday - Closed
Monday - 8am - 5pm
Tuesday - 8am - 5pm
Wednesday - 8am - 5pm
Thursday - 8am - 5pm
Friday - 8am - 5pm
Saturday - 9am - 1pm

Set as My Store
Abilene, TX
Your trucks and trailers need to stay in top condition to perform at their peak. Equipping your vehicles with the right parts and accessories enhances their functionality and makes them look good.
At our Abilene, Texas location, Truckfitters has a comprehensive inventory of robust products and exceptional upfitting services. We can recommend the right products from industry-leading brands, plus deliver end-to-end services with our team of experienced technicians.
Our upfitting serivce
If your truck or trailer needs servicing, our team can get the job done. Upfitting services available in Abilene include:
Truck suspension work: If you've been having a bumpy ride lately, we can inspect your truck's suspension to figure out what's going on. Repair options range from helper springs to lift kits to improve the alignment and control of your vehicle.
Custom paint: Give your vehicle a fresh look with a new paint job. We can paint your accessories to complement your truck color and apply protective coatings to prevent rust and corrosion.
Installations: Whether your vehicle needs a new bumper or tonneau cover, our installers can add it based on your requirements.
Custom fabrication: Tell us what you want for your vehicle and we'll work to make it happen, whether it's installing a bike rack or designing and building a custom truck body.
Warranty repairs: As an authorized warranty dealer for all of our commercial product lines, we can repair your vehicle even if we didn't install your equipment.
truck beds and accessories
We have a vast inventory of vehicle and truck accessories available in Abilene, such as:
Service bodies: Get your truck bed organized and increase storage capacity with a service body.
Truck beds: Whether you want easier access to the gear you're carrying or need more room in the back of your vehicle for oversized loads, we'll help you choose the right truck bed for your needs.
Truck equipment and accessories: Tell us your requirements and we'll help you choose the right equipment from our extensive selection of fenders, caps, boxes and everything in between.
Open-trailer equipment and accessories: If you need gear for an open trailer, we'll help you select the best hitches, racks and tire mounts.
Lift kits and suspension: Want to make your vehicle turn heads? Choose a lift kit to increase its height and up its cool factor.
Van and cargo trailer equipment and accessories:  From vents to ladders to ramps, we work with you to find the right accessories for your van and cargo trailers.
all the parts and services you need
We want your vehicle to look amazing and perform at its peak as much as you do. When you come to Truckfitters in Abilene, Texas for service, vehicle parts or truck beds, we will match you to the products and services that best meet your needs. Our no-hassle process and top-notch customer service mean you'll drive away thrilled with your revamped truck, SUV, jeep or trailer.
Why work with us? Here are just a few reasons:
Industry upfitting experts
Fleet-focused services
Flexible solutions
Vast industry knowledge
Fast turnaround times
ready to get started
You can find excellent upfitting services and truck accessories in Abilene when you come to Truckfitters. We fully stand behind our work and want you to be as happy with your vehicle as we are tricking it out.
Contact us to learn more about our products and services today!
Contact Us
What can we do for you?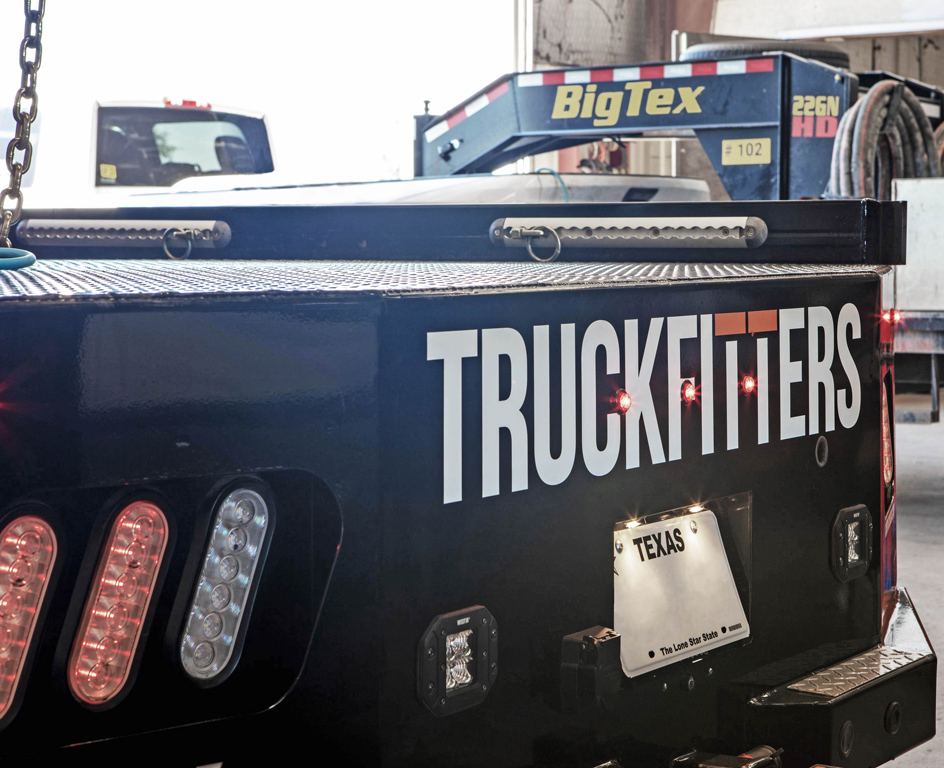 Brands You Trust
Whatever You Need, We Can Get It.
We get it! It's not just a truck. It's much more than that. It's your business, your brand, your livelihood. It's your office, your workshop, your playground. Which is why you demand nothing less than the best. Every product we sell needs to meet high performance standards. We only offer parts and equipment from the industry's top-tier automotive part manufacturers.
When you come to any Truckfitters retail location, you can find solutions from major brands like Bedrock Truck Beds, B&W Trailer Hitches, CURT Manufacturing, American Eagle and many more. If we don't have the parts you're looking for on hand, we'll order them for you so that when you take the wheel, you can realize your full potential.