Store Hours:

Sunday - Closed
Monday - 8am - 5pm
Tuesday - 8am - 5pm
Wednesday - 8am - 5pm
Thursday - 8am - 6pm
Friday - 8am - 6pm
Saturday - 9am - 1pm

Set as My Store
Boerne, TX
Regardless of how you use your vehicle, from pulling other vehicles to off-roading, keeping it looking and performing its best is essential. Truckfitters is the go-to upfitting team in Boerne, Texas, that is ready to improve your vehicle and deliver custom results you can count on. We love what we do and can't wait to tackle your project! .
Custom Trucks for Superior Performance
Whether you want to squeeze more utility from your work truck or revamp your daily driver for a better time on the trails, Truckfitters can help. We're passionate about keeping your truck, SUV, Jeep, van or trailer in tip-top condition, equipping it with top-of-the-line equipment from brands such as Big Tex Trailers, Ranch Hand, CM Truck Beds and Ecco Lighting. Our expert upfitters will work closely with you to understand your situation and help you pick products that check all your boxes.
Working with Truckfitters means you're enlisting help from technicians who eat, sleep and breathe upfitting. We can work on a variety of projects, from entire fleets to one-time upgrades. Our team has years of experience outfitting vehicles with equipment and accessories, including:
Service bodies
Truck beds
Lift kits
Tie-down points
Storage compartments
Grill guards
Lighting
Shelving
Proven Solutions for Your Industry
A truck used for farming functions much differently than one used to serve the local community. Every vehicle has its purpose, and our team at Truckfitters strives to fulfill it. We work with the most trusted manufacturers in the industry to increase your access to reliable truck and trailer parts. Whether you use your vehicle for business or pleasure, we'll ensure it meets your needs.
At Truckfitters, we can upfit vehicles within many industries, including:
What Sets Us Apart?
When you need a partner to get the most out of your vehicle, Truckfitters in Boerne, Texas, should be your first stop. We understand how important your truck is to your daily routine, so we're committed to developing cutting-edge solutions that bring your vision to life. We are an end-to-end, one-stop shop with experts capable of handling the entire upfitting process with fast turnaround times. We'll keep the process fun and exciting, doing our best to get your vehicles back on the road in no time.
When you work with us, you'll experience exclusive advantages, including:
Speedy service rates
Expert advice
Customizable solutions
Attentive customer support
Revamp Your Vehicle With Truckfitters in Boerne, Texas
Get the most out of your truck, SUV or trailer with upfitting services from Truckfitters in Boerne. We're proud of our work and can't wait to help you overhaul your vehicle's appearance and performance. Contact our team online or visit our Boerne location to learn more about what our services can do for you!
Contact Us
What can we do for you?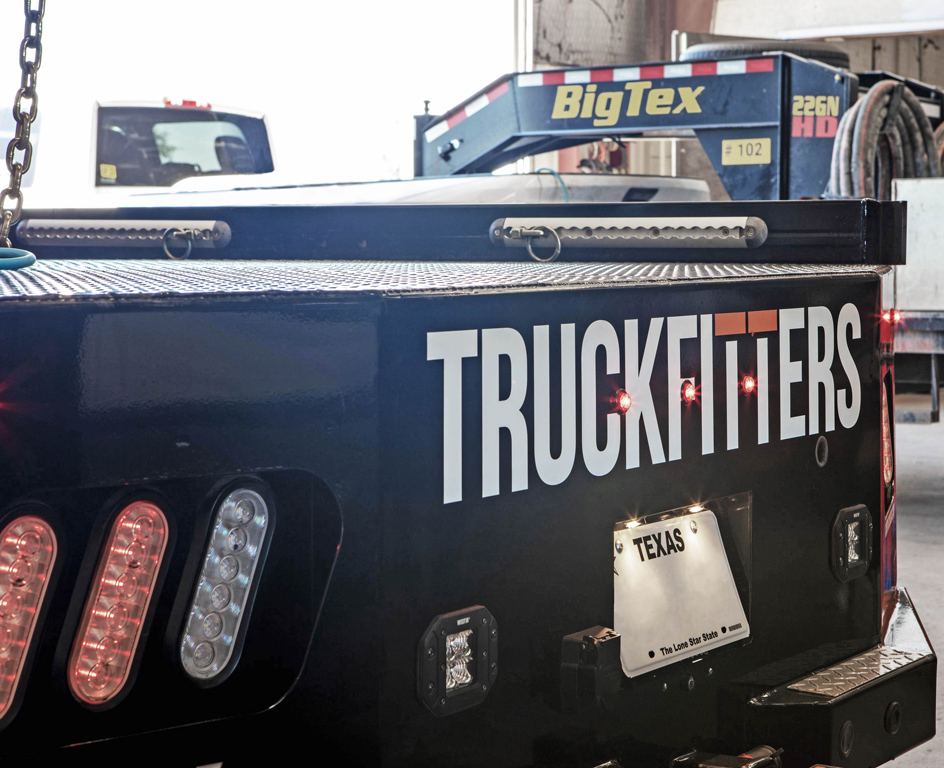 Brands You Trust
Whatever You Need, We Can Get It.
We get it! It's not just a truck. It's much more than that. It's your business, your brand, your livelihood. It's your office, your workshop, your playground. Which is why you demand nothing less than the best. Every product we sell needs to meet high performance standards. We only offer parts and equipment from the industry's top-tier automotive part manufacturers.
When you come to any Truckfitters retail location, you can find solutions from major brands like Bedrock Truck Beds, B&W Trailer Hitches, CURT Manufacturing, American Eagle and many more. If we don't have the parts you're looking for on hand, we'll order them for you so that when you take the wheel, you can realize your full potential.