Store Hours:

Sunday - Closed
Monday - 8am - 5pm
Tuesday - 8am - 5pm
Wednesday - 8am - 5pm
Thursday - 8am - 6pm
Friday - 8am - 6pm
Saturday - 9am - 1pm
Set as My Store
Buda, TX
Are your trailers and trucks in need of maintenance and upfitting services? Having the right accessories and parts for your vehicles can make a major difference in peak productivity and versatility.
Truckfitters offers a wide range of exceptional products and upfitting services at our Buda, Texas, location. Our experienced technicians provide end-to-end services and our team can recommend equipment from industry-leading brands to meet your needs.
Services at Truckfitters
Do your work or recreational vehicles need work? At Truckfitters in Buda, Texas, we offer a range of premium services to make your vehicles the best of the best. Our upfitting services include:
Suspension work
Custom paint
Installation
Custom fabrication
Warranty repairs
Parts for Trucks, Vans and Trailers
At Truckfitters, we have the parts and materials you need for upgrading your vehicles, from Jeeps and vans to SUVs, trucks and trailers. Our clients often require customized projects and we love helping them find the best solutions for their unique goals. Our inventory includes many parts, including:
Industries We Serve
Many industries rely on trucks and work vans to get the job done. At Truckfitters, we understand your unique needs and will help you customize your vehicle so that work becomes easier, more efficient and more lucrative. Some industries we work for include:
Why Work With Truckfitters?
Ready to upfit your vehicle? Truckfitters can handle the entire process, from planning to installation. Our goal is for you to walk away satisfied after a stress-free experience. There are many advantages that come with choosing us, such as:
Superior workmanship: We take pride in ensuring that your trailer or vehicle is upfitted to the highest standard.
Durable materials: Our reliable materials will ensure your new modifications last a long time.
Many customization options: We thrive on custom orders! Let us help you design and create the solutions you need.
Close attention to detail: At Truckfitters, we focus on the details to ensure we modify your trailer or truck to your exact specifications.
Visit Truckfitters to Create Your Dream Vehicle
Looking for upfitting services and equipment near Buda, Texas? Truckfitters is the all-in-one place where you can find accessories and services. We're proud of our work and look forward to seeing you as happy with your vehicle as we are tricking it out.
Contact us to learn more about our products and services in Boda, Texas, today!
Contact Us
What can we do for you?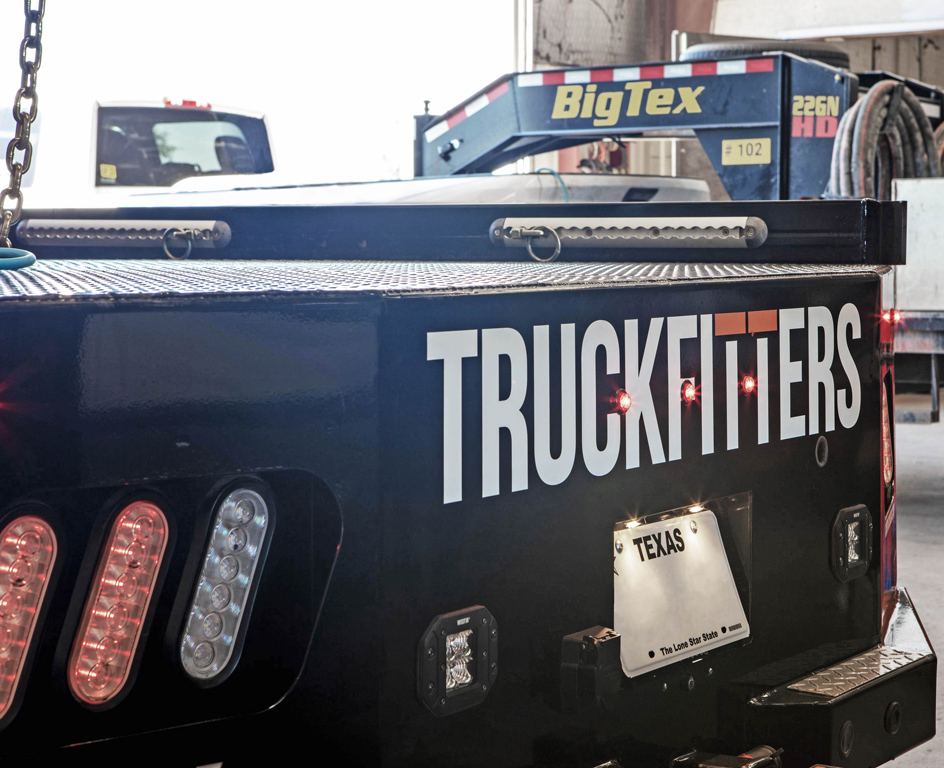 Brands You Trust
Whatever You Need, We Can Get It.
We get it! It's not just a truck. It's much more than that. It's your business, your brand, your livelihood. It's your office, your workshop, your playground. Which is why you demand nothing less than the best. Every product we sell needs to meet high performance standards. We only offer parts and equipment from the industry's top-tier automotive part manufacturers.
When you come to any Truckfitters retail location, you can find solutions from major brands like Bedrock Truck Beds, B&W Trailer Hitches, CURT Manufacturing, American Eagle and many more. If we don't have the parts you're looking for on hand, we'll order them for you so that when you take the wheel, you can realize your full potential.