Store Hours:

Sunday - Closed
Monday - 8am - 5pm
Tuesday - 8am - 5pm
Wednesday - 8am - 5pm
Thursday - 8am - 6pm
Friday - 8am - 6pm
Saturday - 9am - 1pm
Set as My Store
Oklahoma City, OK
Every heavy-duty vehicle has two jobs — to be ready to handle anything and to look incredible while doing so. When your truck, SUV, service van or trailer is at its best, it's easy to go about your work or play with confidence.
At Truckfitters in Oklahoma City, our only goal is to ensure your vehicle is the custom tool of your dreams. Our expert technicians have years of experience working with custom modifications, parts replacement and other installations.
Our Local Truckfitter Services
Whether you're looking for custom paint jobs on a company fleet or wanting to give your personal vehicle something extra, our outfitters are equipped to take on the challenge. When you bring in your project, you'll meet with our technicians so we can get an idea of exactly what you need from us. Every plan we make is unique because your ride deserves the best. We're highly skilled in services such as:
Suspension work
Custom paint
Custom fabrication
Warranty repairs
Truck, Van and Trailer Parts
We've got Ranch Hand, Ecco, Big Tex Trailers and more at our Oklahoma City upfitting shop. We carry all your favorite industry-leading brands and the parts that keep your vehicle running strong. When it comes to parts for your Jeep or van, only the best will do. We do our research and make sure every piece in our catalog has proved its power and is ready to help your rig reach its full potential. Check out our parts for your vehicle below:
Why Choose Truckfitters?
From first plans to final touches, Truckfitters is here to take care of everything. You tell us what you want, and we'll address all your needs to transform your ride. Our OKC upfitters are passionate about what they do, and you'll see that through our careful attention to detail and attentive customer service. We work quickly so you can get back on the road as soon as possible — all we need is your call to start planning.
Start Doing More Today
By the time your vehicle or fleet is ready in our shop, you'll have a customized masterpiece that's prepared to perform on any job or project on your agenda. If you're ready to have the most impressive truck on the road, contact us today and tell us how we can make it happen!
Contact Us
What can we do for you?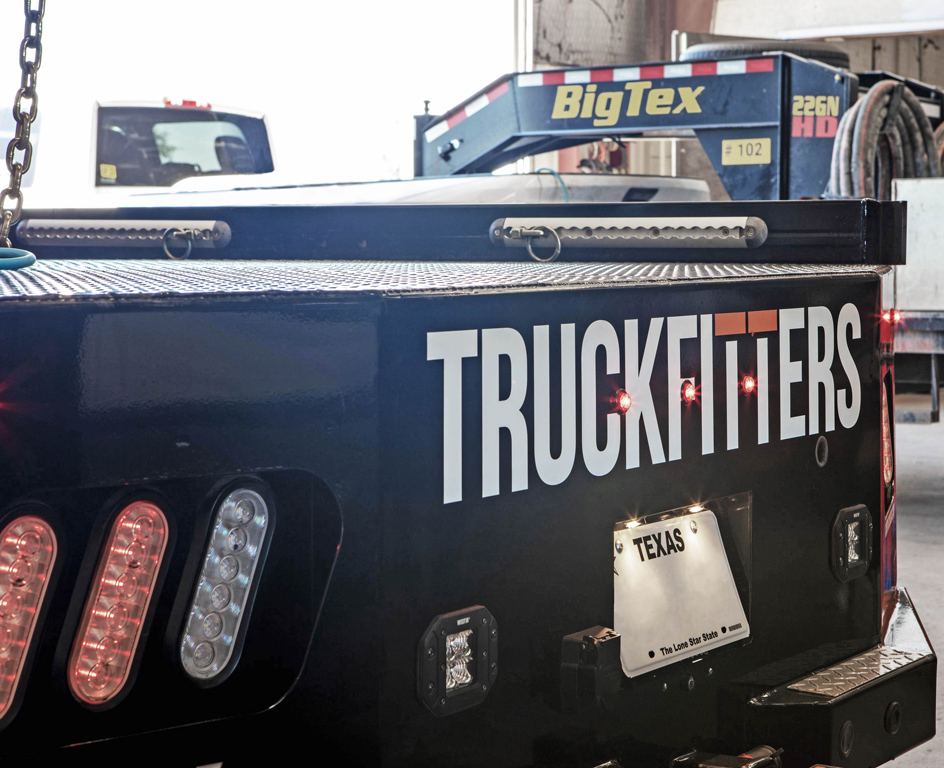 Brands You Trust
Whatever You Need, We Can Get It.
We get it! It's not just a truck. It's much more than that. It's your business, your brand, your livelihood. It's your office, your workshop, your playground. Which is why you demand nothing less than the best. Every product we sell needs to meet high performance standards. We only offer parts and equipment from the industry's top-tier automotive part manufacturers.
When you come to any Truckfitters retail location, you can find solutions from major brands like Bedrock Truck Beds, B&W Trailer Hitches, CURT Manufacturing, American Eagle and many more. If we don't have the parts you're looking for on hand, we'll order them for you so that when you take the wheel, you can realize your full potential.