Store Hours:

Sunday - Closed
Monday - 8am - 5pm
Tuesday - 8am - 5pm
Wednesday - 8am - 5pm
Thursday - 8am - 6pm
Friday - 8am - 6pm
Saturday - 9am - 1pm
Set as My Store
Houston, TX
Truckfitters is Houston's choice for truck, SUV and trailer upfitting because we have fun with our work, and it shows in every vehicle we touch. We're a team of experienced, motivated upfitting experts who work with some of the industry's best parts manufacturers to bring you custom solutions for your vehicle. Learn what we do and why we love it, then set up your appointment to make your ride one of Texas' best.
Truckfitter Services
Our workspace has seen vehicles from all walks of life, from 10-year-old van fleets in need of a revamp to brand-new Jeeps ready for customization. Our Houston service center and technicians are ready for anything, and we're eager to make your vehicle upfitting dreams a reality. We approach every vehicle differently, drawing on history and owner preference to develop personalized solutions that drive better and look incredible while doing so.
When you bring us your prized possession, we'll treat it as if it were our own while performing the work you're looking for. Some of our most common services include:
Suspension work
Lift kit and other accessory installations
Custom paint jobs
Custom fabrication
Warranty repairs
Parts for Trucks, Vans and Trailers
Superior performance means superior parts, and we have those too. The components we use and sell come from some of the biggest names in parts manufacturing, including Big Tex Trailers, Ranch Hand, Ecco and CM Truck Beds. If you're unsure which parts will work best for you, our Houston upfitting crew will get to know what you're looking for and recommend the best options moving forward.
Whatever you drive, we want you to be able to use it to its full potential. You can start by exploring our selections of:
Why Choose Truckfitters?
Your truck is a vital tool for your daily operations, and it should work as well as it looks. As a one-stop shop for all things vehicle upfitting, Truckfitters has everything you need to feel like you have the hottest, most capable vehicle on the road. Our experts pride themselves on their fast turnaround times and attentive customer support — any time you want some advice on improving your performance, we'll be there to offer our thoughts.
ready to get started
At Truckfitters in Houston, Texas, our passion is vehicle performance. Explore our selection of upfitting services today, then contact our team to see how we can take your truck, trailer or SUV to the next level in performance and appearance.
Contact Us
What can we do for you?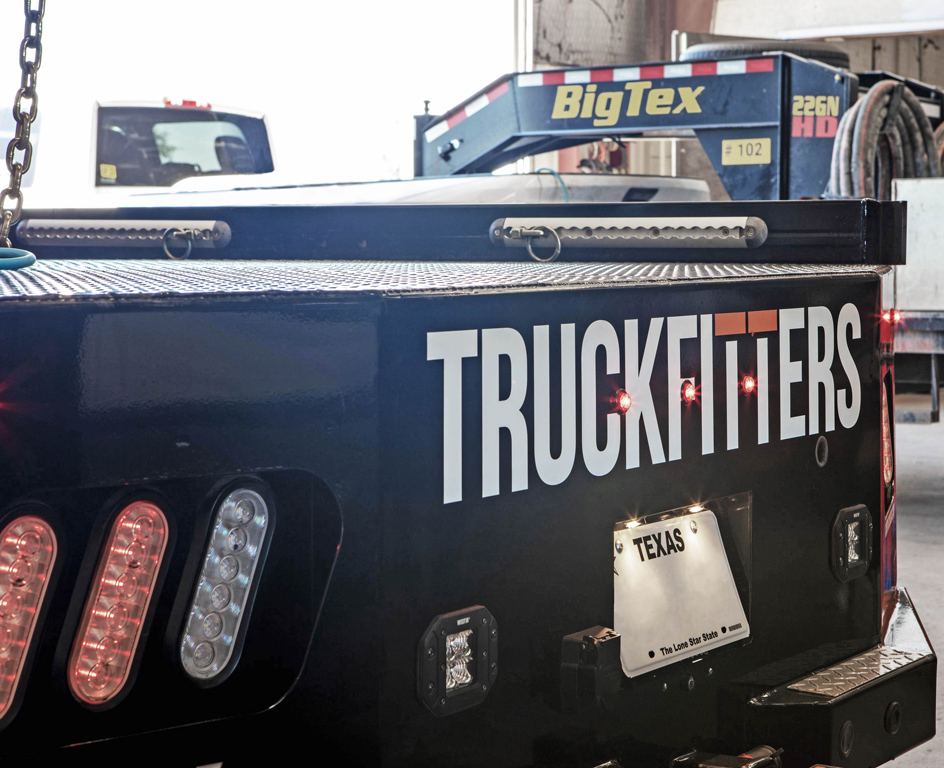 Brands You Trust
Whatever You Need, We Can Get It.
We get it! It's not just a truck. It's much more than that. It's your business, your brand, your livelihood. It's your office, your workshop, your playground. Which is why you demand nothing less than the best. Every product we sell needs to meet high performance standards. We only offer parts and equipment from the industry's top-tier automotive part manufacturers.
When you come to any Truckfitters retail location, you can find solutions from major brands like Bedrock Truck Beds, B&W Trailer Hitches, CURT Manufacturing, American Eagle and many more. If we don't have the parts you're looking for on hand, we'll order them for you so that when you take the wheel, you can realize your full potential.